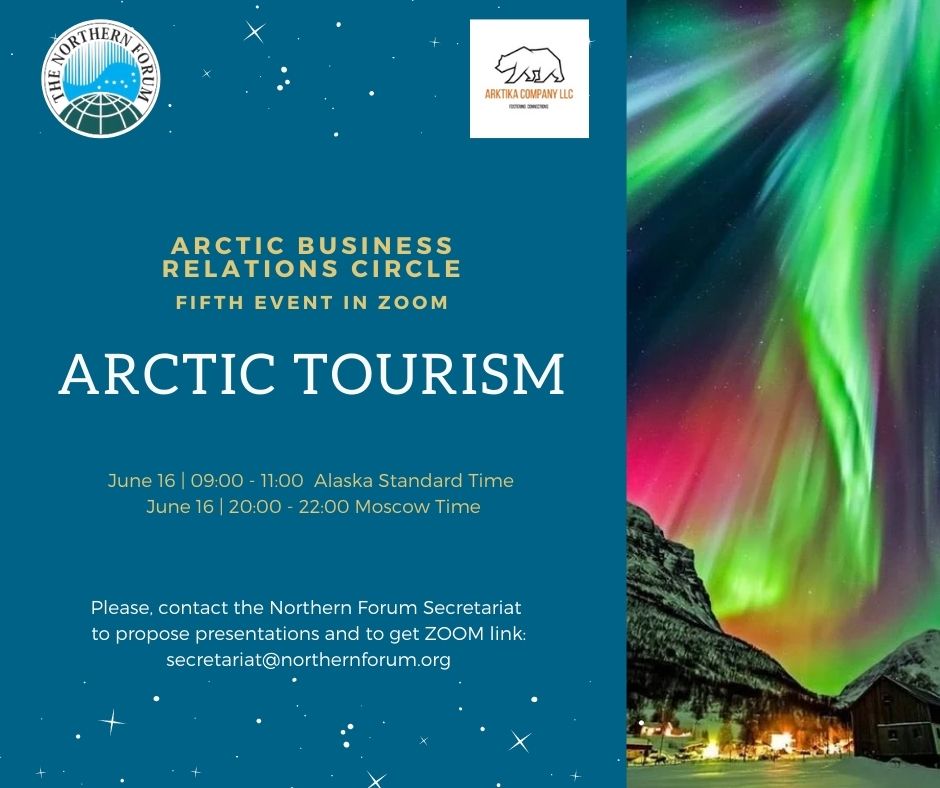 We hope you are planning to join us for our fifth Arctic Business Relations Circle Zoom call!
We are committed to creating the important connections between organizations interested in the Arctic with the people living in the Arctic. June meeting topic will be – Arctic Tourism.
Let's spend two hours to talk about how we can strengthen our business relations, exchange common challenges and ideas, and find opportunities for future partnerships.
English-Russian simultaneous translation will be available. Two interpreters will be translating it in real time. You will be able to navigate that feature from your computer as needed.
Meeting Agenda:
Welcome and Introductions, Kristina Baiborodova, ArKtiKa Company

Vladimir Vasiliev, Executive Director, Northern Forum

Mark Dudley, Regional Director, North America, InterPacific Aviation and Marketing, Inc.

Olga Lapina, Leading Consultant of the Entrepreneurship and Tourism Development Division of the Economic Development Directorate of the Department of Finance and Economy, Nenets Autonomous Okrug

Sergey Mishin, Director of the State Budgetary Institution of NJSC "Center for Arctic Tourism"

Anastasia Deykka, early stage Researcher. Touristic Photography Documentation in the Arctic "Appearing of Disappeared"

Date and Time: Wednesday, June 16, 2021 9:00am -11:00 am Alaska Standard Time / 20:00 - 22:00 p.m. Moscow time