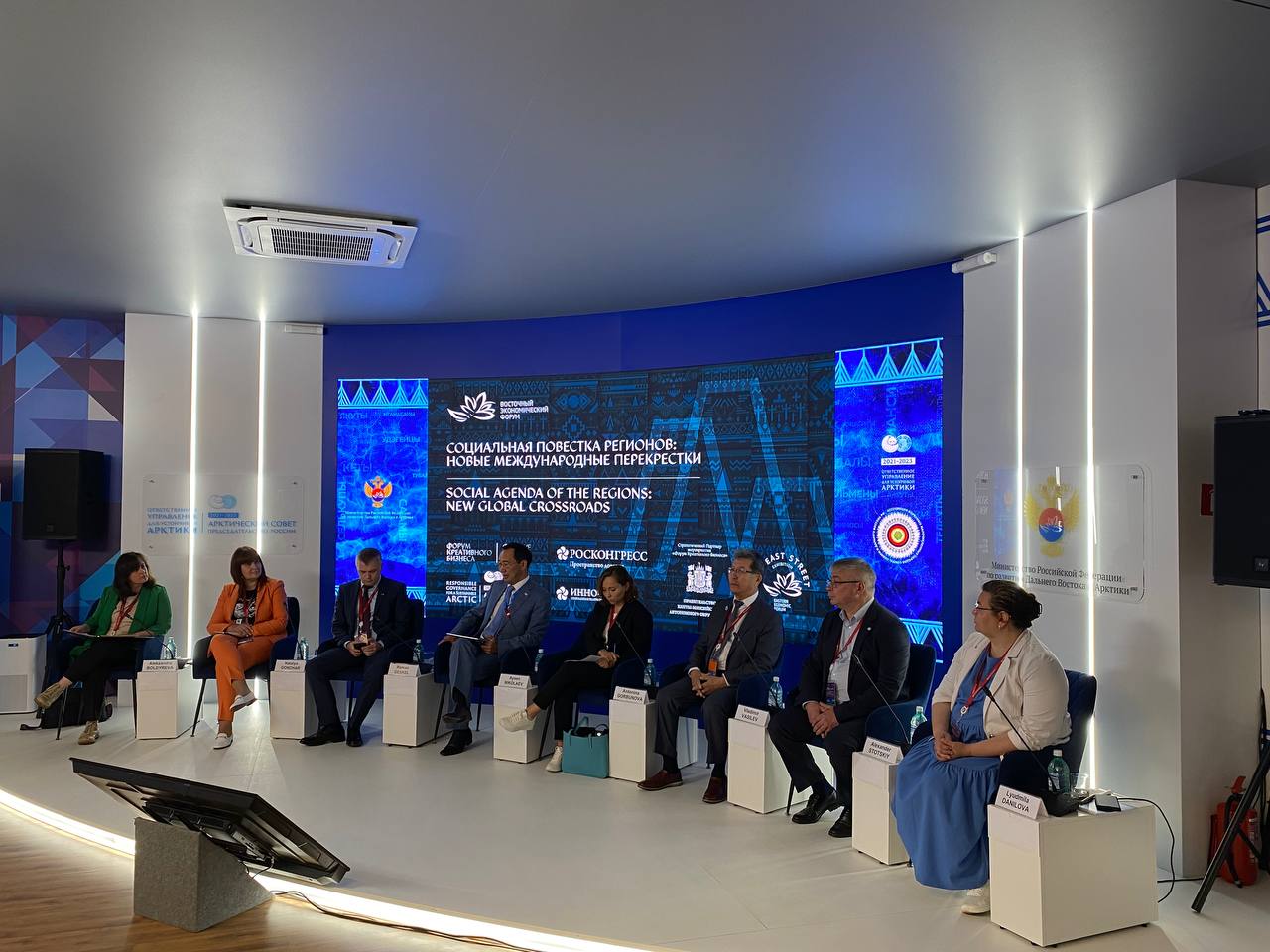 The panel discussion "Social Agenda of the Regions: New International Agenda" was held on September 5 at the House of Indigenous Peoples, which was first located on Far East Street in 2022 at the Eastern Economic Forum.
The discussion was moderated by Alexandra Boldyreva, Executive Director of the association of grant organizations "Donors Forum".
The participants of the discussion spoke about the best practices of the regions of the Far East and the North. Executive Director of the Northern Forum Vladimir Vasilev noted that the organization is the only observer of the Arctic Council, the secretariat of which is located in Russia. He spoke about the new concept of the Northern Forum, which is focused on cooperation in the North-South direction, where work is currently underway to restore ties and contacts with Asian regions, in particular with China. In his report, Vladimir Vasilev paid special attention to the current activities of the organization, within the framework of which the Institute of the Northern Forum Ambassadors, the Northern Forum Foundation have been created, the activities of the Northern Forum Working Groups are being reorganized, and a new working group on tourism is emerging at the initiative of Chukotka.
Vladimir Vasilev noted that the Northern Forum can be used as an infrastructure platform for bringing regions together in implementing projects for the benefit of sustainable development. He also noted that at the initiative of the North-Eastern Federal University in cooperation with the Northern Forum at the 4th Northern Sustainable Development Forum on September 27, an agreement will be signed on the establishment of the Russian-Asian Consortium for Arctic Research.
The Head of the Sakha Republic (Yakutia) Mr. Aisen Nikolaev spoke about such successful and promising projects as Children of the Arctic, Digitalization of the cultural and linguistic heritage of the indigenous peoples of the Arctic. He noted the importance of the existence of a regional law on ethnological expertise. He also noted that soon on September 27-30, Yakutsk is preparing to host the 4th Northern Sustainable Development Forum. At the same time, the Head of Yakutia noted that he does not agree that the ESG agenda is receding into the background, because it should be present in everything.
On the sidelines of the EEF-2022, an agreement on cooperation was signed between the Association of Indigenous Peoples of the North, Siberia and the Far East of the Russian Federation and the International Organization of the Northern Regions The Northern Forum.