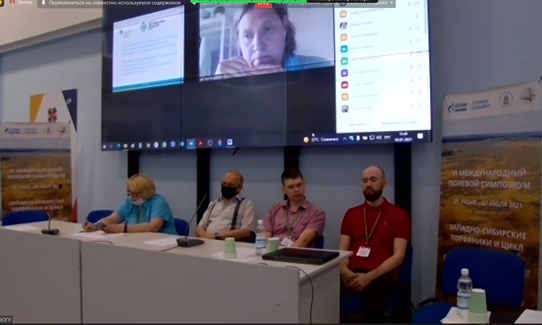 On the third of July 2021, on the sidelines of the VI International Field Symposium "West Siberian Peatlands and the Carbon Cycle: Past and Present" in the city of Khanty-Mansiysk, the Northern Forum project "Restoration of natural ecosystems and ecosystem services for adaptation to climate change" and the Russian-German project "Restoration of peat bogs in Russia for the prevention of fires and mitigation of climate change" held a joint seminar "Restoration of natural ecosystems and ecosystem services for climate change mitigation and adaptation. Experience of restoration of swamps and swamp ecosystems".
The seminar was held within the framework of the Russian-German Cross Year "Economics and Sustainable Development" 2020-2022.
During the event, the speakers spoke about the importance of ecosystem restoration projects for mitigating and adapting to climate change. The United Nations Decade for Economic Development (2021–2030) reflects the international community's commitment to preventing, halting and reversing the degradation of natural ecosystems on all continents and oceans. Ecosystem restoration is of paramount importance for achieving sustainable development goals, combating climate change, eradicating poverty, ensuring food security and preserving biodiversity.
The speakers spoke about the experience of restoring marsh ecosystems in order to mitigate and adapt to climate change. Using specific examples, it was shown how to organize a project to restore disturbed ecosystems, what are the main stages of such projects and how to assess the impact of the project on climate change. Listeners actively asked questions and entered into the discussion.
The workshop helped interested participants to better understand how they can participate ina project to restore natural ecosystems. On the other hand, the question was raised of the need for a deeper study of the direction for the restoration of natural ecosystems as a form of nature management. The need to develop and implement educational courses in universities and advanced training courses for already working specialists.
Speakers of the event were:
Olga Denischik, Mikael Zuckov Foundation, Germany;
Hans Joosten, Swamp Center in Greifswald, Germany;
Daria Ryazantseva and Elena Veshnyakova, Ethnoexpert, Russia-Latvia;
Tatyana Minaeva, Wetlands International/ Care for Ecosystems, Yugra State University, ILAN RAS, Germany-Russia;
Julia Denisova and Sergey Uvarov, Rubus Scientific and Technical Enterprise, Naryan-Mar, Russia
Ruslan Bolshakov, OOO Ekonord, Naryan-Mar,Russia
Larisa Makarova, MNTC LLC, Ryazan, Russia;
Alexander Kaverin, Ugra University, Khanty-Mansiysk, Russia
Gennady Suvorov, Daniil Ilyasov and Andrey Sirin, ILAN RAS /Center for the Conservation and Restoration of Marsh Ecosystems ILAN RAS, Moscow Region-Moscow, Russia.
The event was held in online/offline format on the basis of the Yugra State University. A total of 46 people took part in the event.