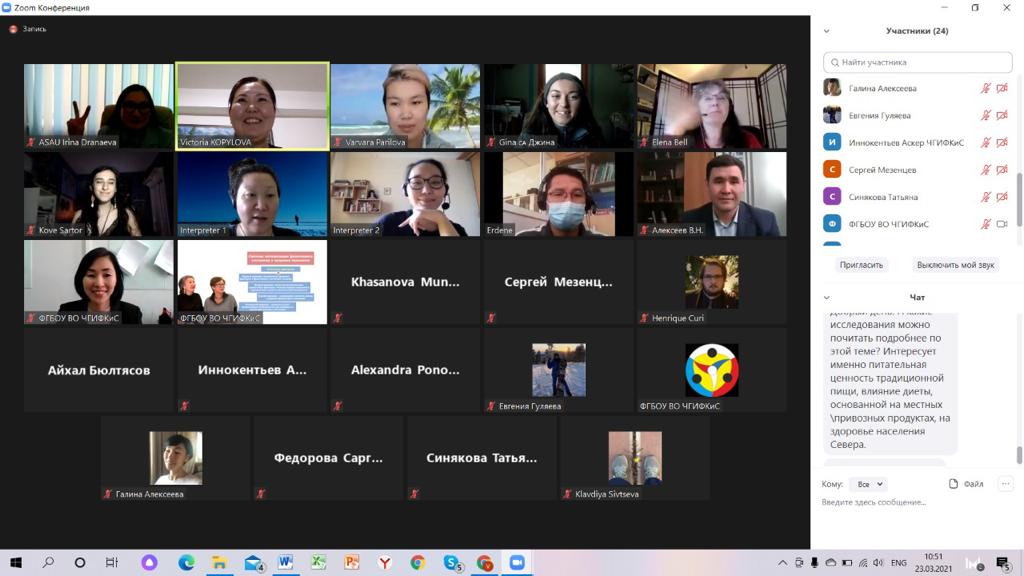 In September 2020, Northern Sustainable Development Forum (NSDF) was held in the city of Yakutsk. Within the framework of this event, the Northern Youth Forum (NYF) was also organized, which brought together talented youth, outstanding scientists, leading experts of the Arctic and the North.
A large number of international events were held: student conferences, seminars, round tables, online workshops.
Following the results of the NYF, it was decided by the leadership of the NSDF to further develop youth cooperation in the Arctic. It has been proposed to host several international events under the NYF in 2021.
One of such events is the organization of an international Winter School, which would bring together active students, youth, scientists not only from the regions of the Russian Federation, but also from foreign countries. The Secretariat of the Northern Forum, together with the universities of Yakutia: AGATU, AGIKI, CHIFKIS, NEFU, began the work of the Winter School from March 22-31, 2021.
The International Winter School was held online on the ZOOM platform. During the Winter School, speakers introduced the audience to food production based on Arctic raw materials, technologies for growing vegetables in conditions of "double cold" (cryolithozone and low air temperatures) and freeze-dried products with an extended shelf life, as well as on the peculiarities of crop breeding in the Arctic. There were interesting reports on the research of the Yakut aboriginal cattle, horse breeding.
It is very important to reproduce the knowledge of indigenous peoples on the collection, preservation, and joint consumption of food. Mastering knowledge about food and its sources is critical to the preservation of indigenous cultures and to their health and well-being.
Recipes for traditional nutrition are also important for the adaptation of the newcomer population to climatic conditions, as evidenced by the history of expeditions in past centuries and medical and biological observations of the health of children of migrants to the north.
More than 100 people took part in the Winter School, online. There were representatives of students, science, government agencies and education from countries such as: Brazil, Canada, USA, Great Britain, Uzbekistan, Mongolia, China, Lithuania, Slovakia, Finland, Denmark, regions of the Russian Federation.
We are grateful for the support of the Northern Forum, for providing technical support, simultaneous translation, organizing the first Winter School within the framework of the Young Northern Forum!