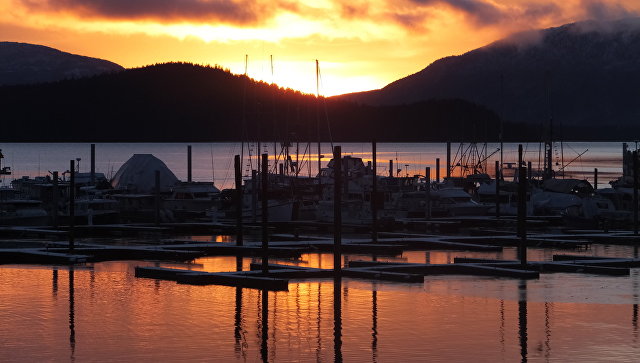 ANCORIDGE (Alaska), Aug 28 - RIA Novosti. The Mayor of Anchorage, Ethan Berkowitz, told RIA Novosti that he wants to find a horse and bind it to serge in a traditional way, a ritual pole from Yakutia, which was established in his city as a sign of good-neighborliness between Russia and the United States and is called the "Totem of Friendship."
"This totem from Sakha is magnificent, it is a post of friendship.The people of the Sakha Republic are horsemen.We hope to lead a horse to tie it to serge (according to the tradition of the inhabitants of Yakutia - ed.) I need now to find a horse, it is not so easy here to find a horse", - Mr. Berkowitz said.
He noted that city residents and tourists see the serge every day when they pass by. "I think this is a good reminder: when we can conduct business between our societies, between people, we can do it in a friendly way," - Berkowitz added.
In July 2018, in the largest city of Alaska Anchorage, Yakut masters established the "Totem of Friendship" between Alaska and the Far East of Russia. The serge stands right at the entrance next to the city "Welcome to Anchorage" sign. The idea of installing serge belongs to Mikhail Ershov, director of the ethnocultural association "Ellayada". Last year, he took part in the 22nd meeting of the Russian-American Pacific Partnership (RAPP-forum), which was held in Yakutsk, where he invited the head of the forum Derek Norberg to begin the project.
Ershov told to RIA Novosti about the meaning of serge. According to him, this is a hitching post and for Yakut people, it is a symbol of hospitality and goodwill. Also, serge is a symbol of survival in difficult climatic conditions.
"Our ancestors put serge in front of their dwelling, next to the front door, which meant: we have been settled in this place for a long time, no matter how difficult it is for us, we are ready to survive, we are open to guests, tie a horse and come to us to visit ", - explained the master from Yakutia.
Source: RIA Novosti https://ria.ru/world/20180828/1527330965.html