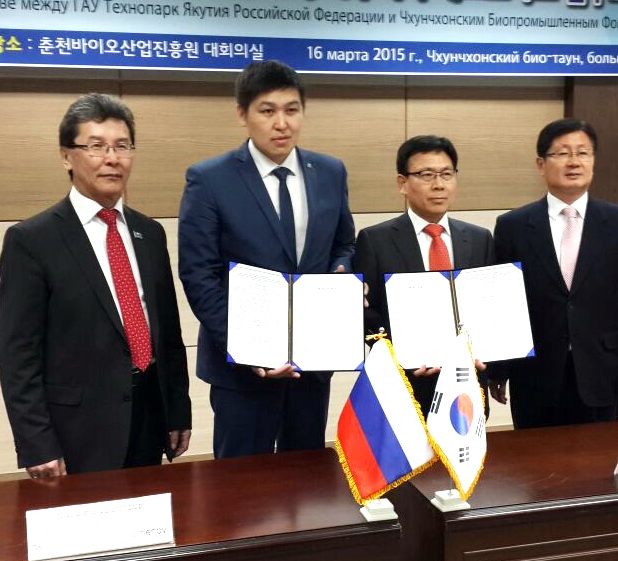 Sakha delegation has met Gangwon Province top officials during a visit that took place on March 15-18, 2015. The Sakha delegation was led by the Federative and External Relations Minister Vladimir Vasiliev. He was accompanied by a "Yakutia" Technopark Director Anatoly Semionov, "Yakutia" airline Deputy Director on Strategic Development Dmitry Timofeye and Deputy Director on Marketing Grigory Reshetnikov.
On March 16, the delegation has met Choi Moonsoon, the Gangwon Province Governor. This meeting's agenda was dedicated to bioindustry, air transportation and membershiop in the Northern Forum NGO.
Work sessions were held further on bioindustry, air transport and tourism with participation from Gangwon Bureau of Global Business, Hamsoapharm company, a joint Korean-Russian company "Tour-Russia" and other.
The Sakha Technopark proceeded to Chucheon City Bioindustrial Fund, where it signed a Memorandum on Cooperation between the Technopark and he Chucheon Bioindustry Fund.
Text and picture courtesy: Sakha Ministry on Federative and External Relations