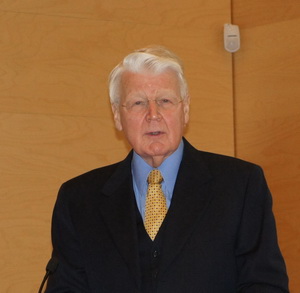 2014 Regional Coordinators Committee meeting has begun today in Akureyri, Iceland; following the end of the Arctic Circle assembly in Reykjavik. Welcoming speech of the Open part was delivered by the President of Iceland, Mr. Olafur Ragnar Grimsson.
In his speech, mr. President has spoken of his personal support to the Northern Forum activities, linking his experience of taking part in the Northern Forum events in the past to his current initiative - the Arctic Circle Assembly, that this year has attracted worldwide attention and was participated by top government officials of the World. The Welcome was supported with speeches from: Mayor of the host city Akureyri - Mr. Eirikur Bjorn Bjorgvinsson, State of Alaska Lt.Governor Mr. Mead Treadwell and Vice Governor of the Northern Forum Co-Chairing region Khanty-Mansiysk Mr. Gennady Bukhtin.
Following presentations are being presented in Hof Center, Akureyri at the moment.