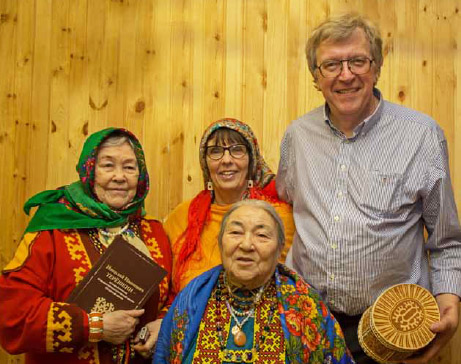 Northern Forum open doors between cultures. They build bridges and even a small businesspartner can get a lot out of being a part of Northern Forum says Anders Bjorklund from PredatorCenter Gronklitt in Sweden. Together with designer Ingvor Ljung we have been invited toparticipate in the unique Bearfestival among Khantys. The Northern Forum people in Khantywith Valentina Kochetygova, Director of Torum Maa Ethnographic museum in Khanty Mansiysk,has made an excellent program for us. Without Northern Forum, the staff in Yakutsk atthe NF Secretariat and Valentinas job we would never have experienced what we now have.
Bears and Natives
In Orsa Gronklitt we have the largest Bearpark in Europe and the world's largest Polar Bear facility.
We are running a big project called "Bears and Natives" about traditional knowledge among Natives in thenorth says Anders. A project that has Bears in the center. At the Northern Forum meeting on Iceland2014 we got in contact with Khanty Mansiysk Autonomus Okrug and Valentina Kochetygova. The nativegroupKhantys in northwest Siberia have lived there own life for thousands of years.
It was first in1970s that this area got road connection. The bear is the son of God in their culture and have a veryunique role. At the Bearfestival, during three days, we got the very unique chance to follow the rituals, dances, songs, storytelling etc. More than 360 different stories about traditional life was presented.
The Khantys is probably the native group in the world where bears have the most central role and still is highlighted at a festival.
Northern Forum - a door to knowledge
Without Northern Forum we never would have been able to participate in this events, says Ingvor. Thedoor to a very unique culture and rituals were opened. Khanty is still a living culture as it has beenthrough thousands of years. It is very important to do everything you can to let this culture stay alive.
The threat today, at the horizon, could be exploitation of oil and gas. It is important that their ownlanguage continues to live, that youngsters must learn about the traditional life out in wilderness andstorytelling and rituals as the Bearfestival must continue.
Khanty hospitality
The program during our visit in Siberia has followed a very generous program. We have visitedmuseums, cultural institutions, researchers and got very close to the Khantys. This unique event issomething you have to be invited to and you have to be accepted by the natives to be able to participate.The things we have seen and documented will end up in an exhibition where we will highlight this culture and compare with our own natives the Samis. We are really thankful to Northern Forum,Valentina Kochetygova and the natives in Kazim village. We hope that our job can support this cultureby presenting it to people in other countries.
Beautiful costumes
Although life as a Khanty is tough and hard there has been a real contrast to see the beauty in therecostumes. Costumes made of fur, pearls, colourful fabrics, in an amazing design with storytelling inpatterns and figures. To make a reindeer parka can take up to five years and they are made in very highquality says Ingvor Ljung who also works with costumes and furs. All the old natives womans hasbeen so friendly describing their work and presenting all the details.
Friends, culture, exchange and sharing knowledge
The Predator Center is a small business partner but, because of Northern Forum, doors have beenopened to very great and fruitful things when working with traditional knowledge among natives. Tobe able to visit Khanty is like opening a book and meet an untouched old culture as it might have beenseveral hundred years ago. Because of this exchange we now can present the importance of letting thisand other cultures stay alive. We can compare different regions and native groups and hopefully makethe world better for these groups. To us this has been a lifetime experience says Ingvor and Anders.