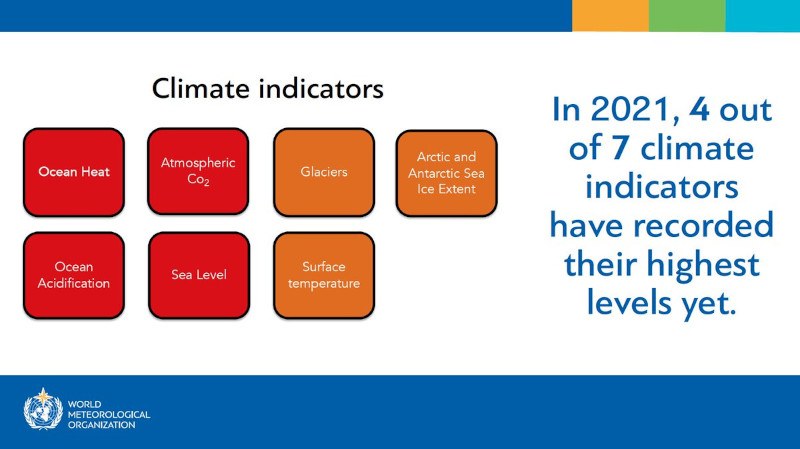 A new, ambitious five-point plan to jump-start the transition to renewable energy – the "low-hanging fruit" of climate action – was announced by UN Secretary-General António Guterres at the launch of WMO's State of the Global Climate 2021 report.
WMO's flagship report and showed that four key climate indicators broke new records in 2021 – sea level rise, ocean heat, ocean acidification and greenhouse gas concentrations. The report includes contributions from dozens of partners and informs decision-makers and UN climate change negotiations.
"Climate change is the main challenge facing mankind," said WMO Secretary-General Petteri Taalas. At a press conference, he presented the report's main findings on climate indicators and impacts on sustainable development and ecosystems.
In a video message to the press conference, Mr Guterres called the report, a "dismal litany of humanity's failure to tackle climate disruption. He said that while time is running out to prevent the worst impacts of the climate crisis, there is a 'lifeline' right in front of us.
Highlighting that renewable energy technologies such as wind and solar are readily available and in most cases, cheaper than coal and other fossil fuels, the UN chief proposed five critical actions to jump-start the energy transition, which he called the "peace project of the 21st century."
Mr Guterres and Assistant Secretary-General for Climate Action Selwin Hart outlined the main points:
1. Treating renewable energy technologies as essential global public goods
This means removing obstacles to knowledge sharing and technological transfer, including intellectual property constraints. There should be a new global coalition on battery storage led by governments and bringing together tech companies, manufacturers and financiers to fast-track innovation and deployment.
2. Secure, scale up and diversify the supply components and raw materials for renewable energy technologies
Supply chains for renewable energy technology and raw materials are concentrated in a handful of countries, and more international coordination is needed to overcome this obstacle.
3. Build frameworks and reform fossil fuel bureaucracies
The UN chief is calling for governments to fast-track and streamline approvals of solar and wind projects, modernize grids and set ambitious renewable energy targets that provide certainty to investors, developers, consumers and producers.
4. Shift subsidies away from fossil fuels
Each year, governments around the world pour around half a trillion dollars into artificially lowering the price of fossil fuels - more than triple the subsidies given to renewables.
"While people suffer from high prices at the pump, the oil and gas industry is raking in billions from a distorted market. This scandal must stop", Guterres highlights.
5. Private and public investments in renewable energy must triple
The UN chief is calling for and adjustment to risk frameworks and more flexibility to scale up renewable finance.
"it's time to jump-start the renewable energy transition before it's too late", the Secretary-General urged.
WMO Action on renewable energy
Weather, water and climate services for energy are indispensable enablers to the energy transition. As energy production shifts more towards renewables, this information will become more valuable in siting and operating hydropowers, wind and solar generation sites. Future energy security and resilience will be exposed to new risks from climate variability e.g., wind and water droughts, floodings, extreme weather and climate events, etc.
WMO is working to support progress towards the energy net-zero goal. Weather, climate and water services:
Are essential for supporting continuous, steady supply of renewable energy
enable greater efficiency in energy demand and use
support better management of challenges for transmission and grid management as well as resilience of the energy systems
support clean energy innovations
There is a need for more effective exchange of information between meteorologists and climate services providers and energy sector users. WMO's 2022 State of Climate Services report will therefore focus on energy. The report will explore how, and the degree to which, climate services inform decision-making in the energy sector and increase capacity within the sector to adapt to climate variability and change and decarbonize through increasing supply from renewable sources, while improving resilience across the whole sector. It will help countries and development partners in identifying the possibilities in transitioning to renewables.
WMO collaborates closely with the International Renewable Energy Agency (IRENA). IRENA's World Energy Transitions Outlook estimates that energy transition can add 85 million energy transition-related jobs by 2030. But in order to keep temperatures at the 1.5°C threshold above the pre-industrial era), there needs to be a total of US$ 5.7 trillion energy transition investment per year until 2030.
"We are really at a critical moment," UN Climate Action envoy Mr Hart told the WMO press conference.
He cited the impact of the war in Ukraine on global energy prices, and warned that the rush to secure oil supplies risked locking in a "high carbon future" which would place climate goals at risk.
"The time to jump start renewable energy is now. if not now, then never, " said Mr Hart.
Source: WMO