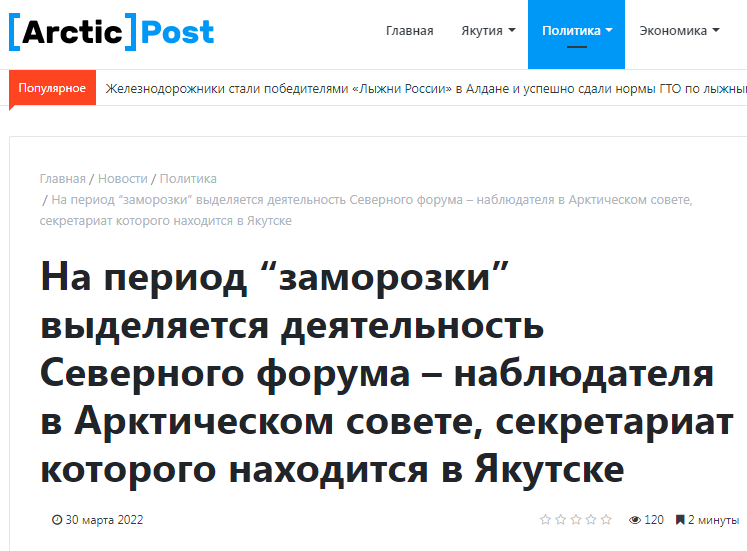 The conservation of biodiversity in the Arctic was discussed at the meeting of Project Office for Arctic Development (PORA) discussion club. The online conference was attended by the representatives of research centers for northern studies, protected areas, and private biodiversity conservation projects. More than 21,000 species inhabit in the Arctic. Climate change and human activity can cause serious consequences for the biodiversity of the Far North. In this regard, the importance of programs, projects and strategies aimed at conserving the Arctic ecosystem and its species is growing. During the discussion, the ongoing biodiversity conservation projects in the Arctic zone of Russia, their results and prospects, as well as partnership opportunities for their implementation were considered.
"The topic of biodiversity is important for the Arctic Council, where Russia chairs in 2021-2023. During the period of "freezing" the interaction with other member countries in the Council, Russia intends to work on implementing the chairmanship program based on its national interests in the region. Under these conditions, the role of contacts between the Arctic regions of our country is growing, and the need to strengthen cooperation between them on the priority issues of the Arctic agenda, including biodiversity conservation, is updated. In this regard, I would like to highlight the role of research centers, universities, competence centers and public organizations. In this context, the contribution of interregional interaction formats is also in demand, among which we can highlight the activities of the Northern Forum, the Arctic Council observer, the Secretariat of which is located in Yakutsk," emphasized Nikolay Korchunov, Ambassador-at-Large of the Ministry of Foreign Affairs of the Russian Federation, Chair of the Senior Arctic Officials of the Arctic Council.
In particular, the approved projects of the Northern Forum aimed at developing cooperation in the field of environmental protection and biodiversity conservation were noted, including Environmental Monitoring, Wildlife Management, State of the Environment and Emergency Response. Within the Environment Program, cooperation has been established on such projects as Development of Protected Areas, Brown Bear Populations Management, and Youth Eco-Forum.
Northern Sustainable Development Form, held annually at the end of September, regularly discusses the issues of environmental protection, protected areas development, and biodiversity conservation and enrichment. The annual campaign for the conservation of rare and endangered species has gained popularity and become the NSDF traditional event.
The holding of the PORA discussion club will be the first stage in creating a report in which it is planned to present the best biodiversity conservation practices in the regions of the Russian Arctic, the Russian Chairmanship in the Arctic Council press office explained.
Source: Arctic Post