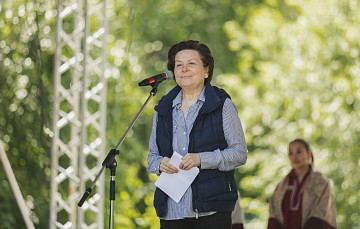 The Ugra Governor's Cup International Competitions in Oblasy Rowing were held in the Nefteyugansk district of the Khanty-Mansiysk Autonomous Okrug – Ugrа from June,28 to July 1,2019.
These competitions have been held in the region since 2001. Since 2015, the event has been held as part of the worship of the aquatic spirit Wit Hon, the traditional holiday of the Khanty and Mansi . The place of competition is the base of tourism and recreation "Skazka" of the Nefteyugansk district.
The head of the region Natalia Komarova took part in the opening ceremony. This year competitions gathered a record number of participants. More than 200 sportsmen came to the Nefteyugansk district not only from Ugra but also from foreign countries. Among foreign guests was the team from Hungarian province of Zala. It is not the first time for the Hungarian delegation to participate in the Governor's Cup. They seriously prepared for the visit presenting their own team of rowers, preparing to the competition for the best fish dish and traditional Hungarian goulash.
In the competition there were several disciplines starting from mass start, single race, pair heats, troika and finishing with relay. The winners in the team event were teams from the Nizhnevartovsk district, the second place was held by Kogalym residents, and the third place went to representatives of the village of Russkinskaya (Surgut district).
Click here to learn more