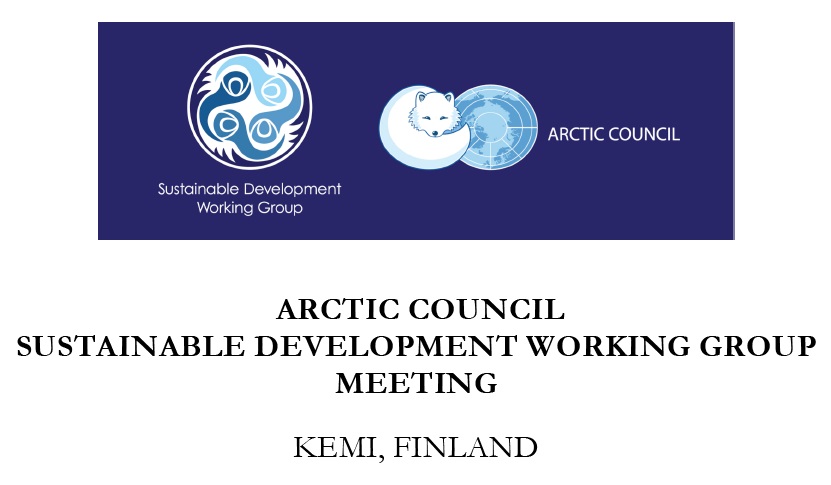 3-day Sustainable Development Working Group (SDWG) Meeting was held Monday-Wednesday, 04-06 February 2018 in Kemi, Finland. The Northern Forum was represented by Maiju Jolma-Taylor - Coordinator in the International Project collaboration, Regional Council of Lapland, Finland.
Following text on the meeting's outcomes was written by Maiju Jolma-Taylor:
"Northern Forum participated in the last SDWG meeting under Finland`s chairmanship in Kemi in February 2019.
- The SDWG had on its agenda thematic discussion on sustainable economic development in the era of climate change. Kemi as a circular economy center in Finland offered a great set up for this discussion. During the meeting days we visited in chromium mine, which is one of the kind in Europe. This mine provides chromium to Outokumpu stainless steel factory, which uses 85% recycled content in its production. Circular economy and its potential in the Arctic were also highlighted in the presentation of marine litter project by Netherlands. World Circular Economy Forum will be held in Finland in June 2019, and a possibility for Arctic side-session was explored.
- The SDGW reviewed all the ongoing projects under each thematic priority. Many of the projects are close to finalization and many final drafts of deliverables (report, book etc.) were approved.
- From Northern Forum point of view, here are some of noteworthy projects. Under heritage and culture priority, EALLU, Arctic Indigenous People´s Food Systems: Youth, Knowledge and Changes 2015-2019. Northern Forum has worked closely with EALLU project staff in collecting and co-creating the stories together with indigenous youth groups around the Arctic.
- Under education priority, the Russian Federation gave an update on the Arctic Children - Preschool Education and Smooth Transition to School project. The SDWG decided that the new project proposed by the Russian Federation and the Northern Forum on International Arctic School should be joined to the ongoing preschool project, as it is seen as natural continuation and synergies should be used. Finland and Norway also expressed their interest to co-lead this project. IASSA noted that they too are interested in collaboration as youth are their overarching focus. ICC emphasized the continuous support for the language development for the indigenous languages and supported the project.
- The SDWG reviewed its own working modalities as many of its members called out for more and deeper collaboration both in implementing the project deliverables and the general work plan of the group. The role of SDWG is recognized and acknowledged in the wider work of Arctic Council".
Maiju Jolma-Taylor

Coordinator in the International Project collaboration, Regional Council of Lapland, Finland