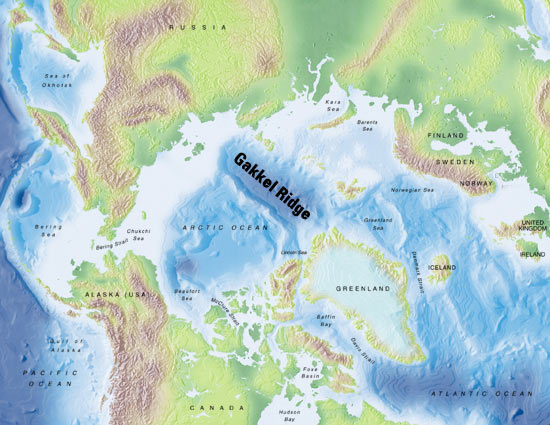 The Russian Ministry of Natural Resources and Environmental Protection will study a question of inclusion of Gakkel ridge in the Russian demand on establishment of borders of a continental shelf in the Arctic Ocean.
The question will be considered on the basis of additional researches in this area, reported on the site of Ministry of Environmental Protection and Natural Resources.
Now the Russian demand includes the Lomonosov ridge, Mendeleyev's raising and a hollow of Submariners in the commission of the UN on a continental shelf.
Gakkel ridge - an underwater spine in the Arctic ocean between Nansen and Amundsen's hollows. It consists of almost parallel ridges, numerous cone-shaped mountains put by volcanic breeds. On an axis of ridge, deep gorges 20-30 km wide are located. Extent of Gakkel's ridge consist of more than 1000 km.
Russia plans to submit the application the commission to the UN in the spring of 2015.
Original article: IA Interfax
Picture Courtesy: http://www.whoi.edu/cms/images/lstokey/2005/1/v42n2-dick4en_5655.jpg