Overview
Gangwon-do is a province of South Korea, with its capital at Chuncheon. Before the division of Korea in 1945, Gangwon and its North Korean neighbor Kangwŏn formed a single province.
Flag and Coat of Arms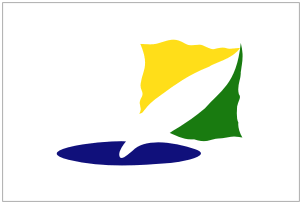 History
Gangwon-do was one of the Eight Provinces of Korea during the Joseon Dynasty. The province was formed in 1395, and derived its name from the names of the principal cities of Gangneung (강릉; 江陵) and the provincial capital Wonju (원주; 原州).
In 1895 Gangwon-do was replaced by the Districts of Chuncheon (Chuncheon-bu; 춘천부; 春川府) in the west and Gangneung (Gangneung-bu; 강릉부; 江陵府) in the east. (Wonju became part of Chungju District.)
In 1896 Korea was redivided into thirteen provinces, and the two districts were merged to re-form Gangwon-do Province. Although Wonju rejoined Gangwon-do province, the provincial capital was moved to Chuncheon, where it remains today.
In 1945 Gangwon-do (along with the rest of Korea) was divided by the 38th parallel north in 1945 into U.S. American and Soviet zones of occupation in the south and north respectively, which led to Wonsan joining the province's northern half in 1946 to serve as its administrative center. In 1948, the southern half of the province became part of the new Republic of Korea. As a result of the Korean War Armistice Agreement of 1953, the boundary between the South and North Korean portions of the province was shifted northward to the Military Demarcation Line.
Features
The area of Gangwon-do is 20,569 km2 (7,941.74 sq mi), of which four fifths are woodland. Edible alpine plants and mushrooms are harvested in these forests.
The province's landscape is dominated by the Taebaek Mountains (Taebaek Sanmaek) which almost reach the sea. As a consequence the coast is steep. Seoraksan (mountain; 1,708 m) and Mt. Odae (1,563 m) with its ski run, attract a large number of national tourists. Both are located in national parks in the Taebaek Mountains. South Korea's largest limestone cave, Hwanseongul, receives over one million visitors a year.
The province is renowned for its agricultural produce, in particular potatoes and fish (cuttlefish and pollock). Mineral resources of the province include iron, coal, fluorite, limestone and tungsten. There are hydroelectric and thermoelectric power plants.