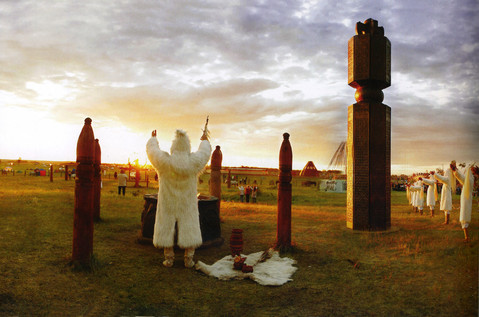 The federal government called in Russia's ambassador to Canada for another dressing down and announced it would skip Arctic Council meetings in Moscow this week in response to escalating tensions in Eastern Ukraine.
Environment Minister Leona Aglukkaq said Tuesday that Canada's decision to boycott the meetings meant it was taking a "principled stand" against Russia over the situation in Ukraine. The Arctic Council's task force on black carbon and methane was scheduled to meet in Moscow for three days this week, according to the Council's website.
"As a result of Russia's illegal occupation of Ukraine and its continued provocative actions in Crimea and elsewhere, Canada will not be attending working-group level meetings in Moscow this week," Ms. Aglukkaq said in a statement. "Canada will continue to support the important work of the Arctic Council."
The announcement comes one day after Prime Minister Stephen Harper blamed Moscow for the separatist movement in Eastern Ukraine, which he said was the work of Russian provocateurs that had been sent to the region by the Putin regime. In recent weeks, Canada has imposed sanctions on a number of Russian individuals and halted bilateral activities between the Canadian and Russian armed forces.
However, the government went ahead with planned Arctic Council meetings last month, when representatives from all member states, including Russia, met in Yellowknife. A statement from Ms. Aglukkaq's office on Tuesday said the decision to skip this week's working group meetings builds on the "tough stance" Canada has taken against Russia.
On Tuesday afternoon, the government called in Russian ambassador Georgiy Mamedov to express "frustration" with Moscow over the situation in Eastern Ukraine, a government source said.
Daniel Jean, Canada's deputy minister for foreign affairs, told Mr. Mamedov he believes recent actions by pro-Russian separatists in the region were co-ordinated, and that Russia was involved. Mr. Jean called on the ambassador to urge Moscow to de-escalate the situation, the source said, and warned that Canada could take further steps aimed at isolating Russia politically and economically.
It was the second time senior Canadian officials have called Mr. Mamedov in for a dressing down since the crisis in Ukraine began. Mr. Jean and associate deputy minister Peter Boehm also scolded the veteran ambassador in a late February meeting that was called after Russia's parliament approved troop deployment in Ukraine.
ORIGINAL ARTICLE LINK: http://www.theglobeandmail.com/news/politics/ottawa-upbraids-russian-envoy-will-skip-arctic-council-moscow-meeting-over-ukraine/article18032205/