The Arctic culture has a main feature with most of its ethnicities – co-existence with nature that makes human life in harsh conditions sustainable. Whether the peoples are living by fishing, whaling, hunting or even living sedate and doing farming and working for industry – careful, yet intensive use of nature deposits has its reflection in culture. Inuit – one of the biggest peoples in the Arctic, populating coastal areas of several Arctic states, have many references to relationships with nature – starting with myths of aurora and hunting rituals, ending with words in their language. Yakuts is another notable people that has strong links to the Arctic environment, despite living inland rather than on the coastal lines – tales of the North and. Nomadic reindeer herders such as Evenki or Sami, from the other side have their own way of life that is tied to reindeers and their own living routine.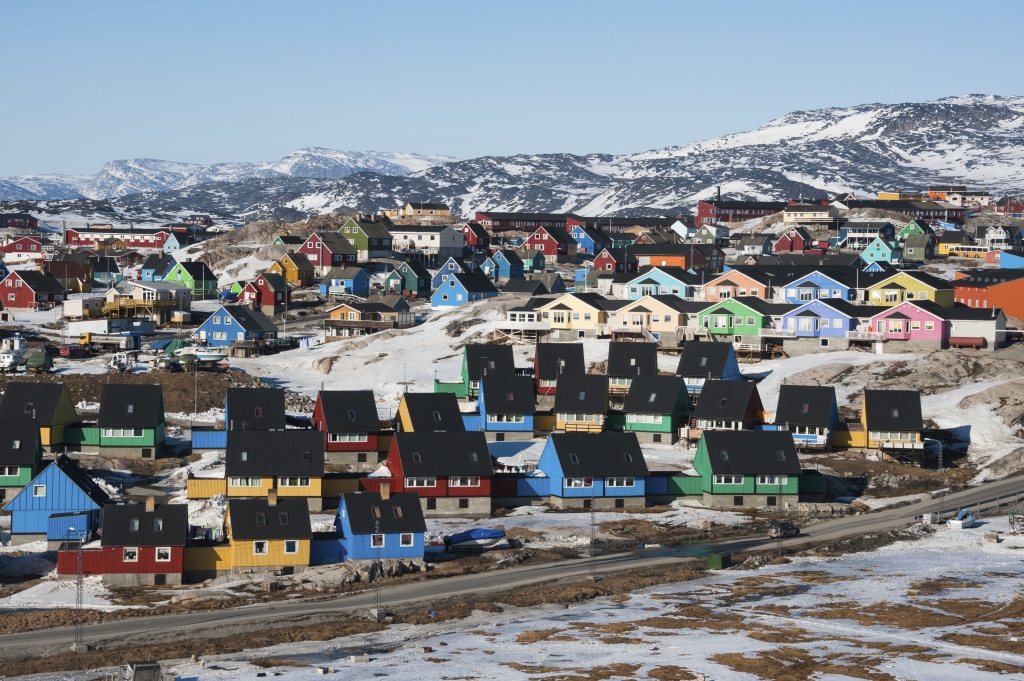 Specificity of the Arctic has its reflection on the Arctic culture – this place, as any other place in the World has universal culture events – yet, with Arctic features. For example, there is a variety of North-only film festivals, one way or another districting films about the North. These are Polar Lights Film Festival originating from Murmansk (Russia), the most Northern film festival of Europe called TIFF (held in Tromso yearly) and recently launched Yakutsk International Film Festival. Whereas these have clearly Northern attributes, the reviewed films can be either amateur, short and documentary or ones that run of the "silver screen".
The Arctic, being a demanding place to reside hence its climate conditions, requires its residents to be perfectly fit and ready to oppose natural challenges. Therefore it is not surprising that sports play a major role in culture of the North. Sports events are popular with everyone – both indigenous peoples and modern societies; and the Northern kinds of sports are becoming increasingly a worldwide trend. There is a variety of international sports events held in the Northern Forum regions. One may know Children of Asia games held once in 4 years in Yakutsk (Russia), subregional sports contests in practically every NF region and non-Northern Forum events that engage the Northern Forum regions. Notable examples are events such as the Inuvik Northern Games held in North America since 1970 using indigenous-sourced kinds of sports and Arctic Winter Games launched by co-creator of the Northern Forum, Alaskan governor Walter J. Hickel that is a general sports contest allowing sportsmen from the Circumpolar region to compete in their home turf.
Below we listed interesting culture events that are held in the regions of the Northern Forum. We update the events every year, so that you can get a real chance to take part in these.
United States of America (Alaska)
Iditarod Dog Sled Races
Iditarod — is the best-known and extreme race on dogsleds, with a general extent more than 1 800 kilometers. Americans call it "the Last Great Race". Participation in this unforgettable competition attracts the most various people from around the world, from all sectors of society.
Appropriate term for sport actually "teams" which consists of sledge persons direct, along with several sets of dogs having pulled it forward. Iditarod races covers nearly 1200 miles, and can last about fifteen days. The best time was in 2002 when the winner Martin Buzer crossed the line finished slightly less than nine days.
Imagine mountain tops, a taiga, the desert tundra and the frozen river. Add to it the negative temperatures and blizzards causing total loss of visibility, and you receive Iditarod — outstanding race on dogsleds, possible only on Alaska.
Races Iditarod will take place on the first Saturday of March every year. Nevertheless, guests who want to catch to finish it is necessary to plan the trip at the end of race. It, as a rule, in nine days after the beginning on Saturday. To the seventh or the eighth day, is the general opinion, approximately, when the winner will be crossings of the finishing line.
Willow Winter Carnival
This annual winter festival, in existence for more than 50 years, is held on back-to-back weekends at the end of January and beginning of February. With the state's biggest winter fireworks display, $1,000 bingo cash pots, sled dog races, talent contests, foot races and fat-tire bike races, the festival is a regional draw and a fun place for travelers to see Alaskans cut loose.
The carnival kicks off with a dinner at the community center, where 250 people feast while a dozen artists do a "quick draw." In under an hour, they'll paint or sketch creations that are then auctioned off. Other highlights of opening night include fireworks, as well as mushers drawing positions for the dogsled race
That's just one of many races, which range from competitive to goofy. But perhaps the funniest event is held on the second weekend: the "Talent or Not" contest. Singers, jugglers, fire twirlers, and more take the stage to show off their skills (or lack of them). www.waco-ak.org
Atlin Arts & Music Festival
The picturesque town of Atlin holds its annual arts and music festivals for up to 2,500 people for just three days of the year. It boasts a diverse musical lineup and fun for both children and adults. Participate in art & music workshops & demos, artist exhibitions, comedy, dance & storytelling.
In addition to a stellar roster of performances and film screenings at the Globe Theatre, marthoners can partake in the Atlin Mini-Marathon scheduled during the festival.
Advance tickets are advisable as camping sites and accommodation fill up fast!
Fairgrounds & Festivals
Jul 10, 2015 - Jul 15, 2015
If you're visiting Alaska between May and August, you're pretty much guaranteed to stumble across a celebration. Fairs, of course, offer an all-ages crowd-pleaser, with good food, entertainment, and no doubt some quirky Alaskan tradition that started it all. The Alaska State Fair (in the Mat-Su Valley, about an hour north of Anchorage) is the biggest festival of the summer, taking place from the end of August through early September. While the celebrations slow down during the colder months, they certainly don't stop. One of the most beloved festivals of the year—and the largest one during winter—is the Fur Rendezvous (also called Fur Rondy), which turns Anchorage into a big snowy party every February.
Alaska Folk Festival
The Alaska Folk Festival is an annual celebration of music by folk from Alaska, the Northwestern United States, Canada, and further. It is held in Juneau, Alaska, most commonly during the second week of April.
It includes performances from a wide variety of solo artists and musical groups, and it provides workshops for people interested in the music. There are also dances, jams, singer/songwriter showcases and other events. All events are free to the public. This festival is supported solely by volunteers and donations. There are no auditions for the acts, anyone can apply. Each act is 15 minutes long. There are 9 concerts over 7 days with about 15 acts in each concert.
Each year we hire one Guest Artist group. They are contracted to play two 45-minute sets on the main stage, sometimes a dance set, provide workshops, and jam with folks around town.
The only limitation on musical style is the 15 minutes allocated for each act. Since the setup time must also fit into the 15 minutes, complicated setups are not a good idea, and may not be allowed. Performers include poets and dancers as well as musicians.
The 41st annual Alaska Folk Festival is scheduled for April 6-12, 2015.
CANADA (Yukon)
Yukon Sourdough Rendezvous Festival
Feb 18, 2015 - Feb 22, 2015
Celebrating Yukon's tenacious, frontier spirit
For a week in February, Whitehorse buzzes with energy that brings Yukon's heritage alive and heralds the coming of spring. Enjoy family-friendly and sporting events by day like the pancake breakfast, axe throwing, dogsledding, flour packing and chainsaw chucking. At night, the raucous fun gets in full swing with Sourdough Sam competitions, crowning of the festival Queen and roving performances by the world-famous Snow Shoe Shufflers and Rendezvous Can Can dancers.
Crane and Sheep Festival
One of North America's most spectacular migrations of the Sandhill Cranes! At the beginning of May, Sandhill Cranes migrate to nesting grounds in western Alaska and North-eastern Siberia. Visitors can see the birds funnel through the Yukon's Tintina Trench, swooping, soaring and riding thermals right over the Town of Faro. The festival also showcases Fannin sheep, tours of the area, natural history talks, and family entertainment.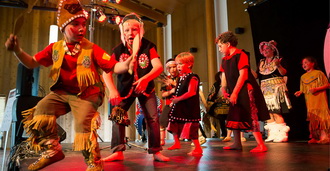 Adäka Cultural Festival
The Adäka Cultural Festival was launched in July 2011, with a mission to develop and deliver a world-class, iconic festival that showcases, celebrates, and fosters the development of Yukon's diverse and distinctive First Nations arts and culture. The Festival is committed to shining a light on the creative spirit of Yukon First Nations people, helping to preserve and revitalize our arts and culture, while inspiring artists and youth to take pride in their heritage and communities. Each year the Festival hosts over 150 artists and features a vibrant schedule of traditional and contemporary performances, artist demonstrations, an art market & gallery, workshops, cultural presentations, films, community feast, and more!
Commissioner's Tea and Klondike Ball
The regal Commissioner's Ball at Dawson City's renowned Palace Grand Theatre. Get decked out in all your finest and step back in time. Held each year in recognition of our territory officially joining the dominion of Canada, this event draws Yukoners and visitors from far and wide. Dress is formal and many take the opportunity to dress in the styles of 1898. A tea is held during the day at the Commissioner's Residence. A ball takes place at night with great food, potable spirits and dancing.
National Aboriginal Day in Dawson
On June 21st the Dänojà Zho Cultural Centre situated in downtown Dawson City, celebrates National Aboriginal Day with outdoor events including the Hän Singers, live contemporary music, tours, activities, refreshments and an opportunity to visit our heritage galleries. Aboriginal Day has been set aside for all people to recognize, celebrate and learn more about the Tr'ondëk Hwëch'in First Nation and Aboriginal culture and heritage in Canada.
Yukon Sourdough Rendezvous Festival
For a week in February, Whitehorse buzzes with energy that brings Yukon's heritage alive and heralds the coming of spring. Enjoy family-friendly and sporting events by day like the pancake breakfast, axe throwing, dog sledding, flour packing and chainsaw chucking. At night, the raucous fun gets in full swing with Sourdough Sam competitions, crowning of the festival Queen and roving performances by the world-famous Snow Shoe Shufflers.
A Celebration of Swans
Every spring, migratory birds descend on the Yukon en masse in a beautiful display of nature at its finest. The Celebration of Swans is the territory's premier bird festival, highly anticipated by locals and visitors alike for the sight of thousands of Trumpeter Swans in their natural habitat. Families, visitors and serious and casual birders flock to Swan Haven in Marsh Lake and other viewing areas in southern Yukon to take in the spectacle and join special events
ICELAND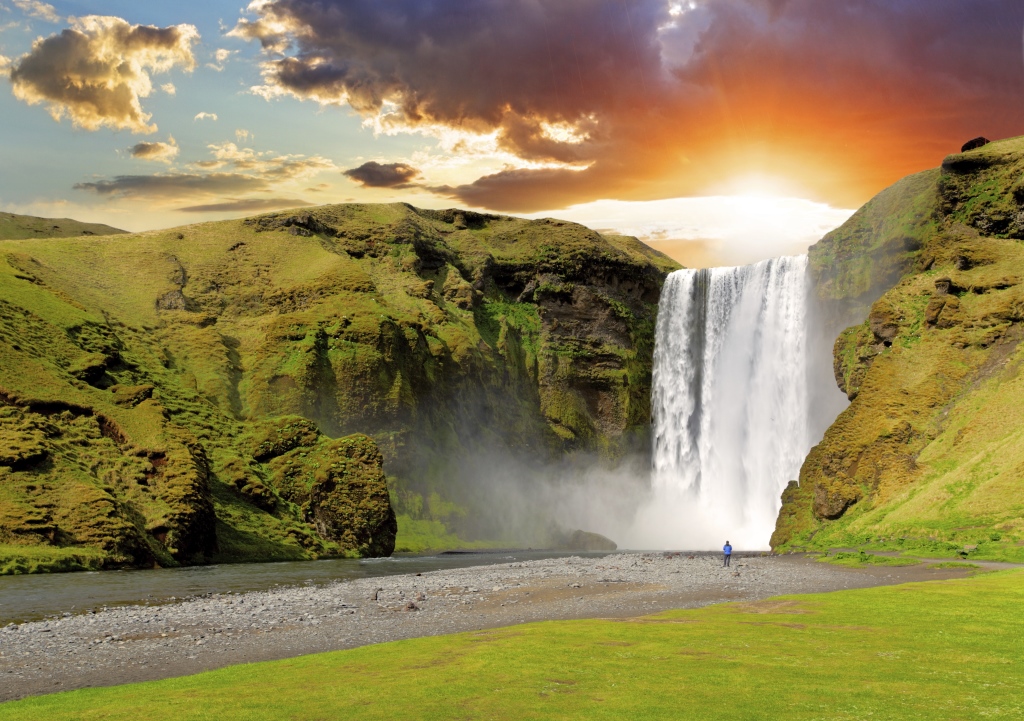 Grímsey Festival
Grímsey Day is an annual fest focusing on old traditions and takes place at the beginning of June each year. Grímsey Festival comes to collecting eggs, boat tours, childrens games, seek out the eggs of the Artic Tern, enjoy seasonal local food, music etc. The event takes place over the weekend 30th of May - 1st of June.
Grímsey is situtated on the Arctic Circle 41 kms off the North coast of Iceland. The present population is around 90 inhabitants. The island offers the visitors a wonderful scenery and birdlife. You can fly or take a ferry out to Grímsey.
Medieval Trading Weekend at Gásir
The Medieval Trading Weekend 2014 will take place on the 18th - 20th of July.
Each summer the medieval market event provides daily demonstrations in medieval crafts and games.
The villagers are dressed in medieval costume and can be seen demonstrating old nordic crafts; spinning wool, wood carving, tanning, black smithing and much more. Shows of medieval sword fighting are held on each day of the festival and members of the public can join in with medieval ball games and archery. Refreshments are availble and traditional lamb soup made with icelandic herbs is on sale.
Fish Festival in Dalvík
The Great Fish day is an annual festival in Dalvíkurbyggð held the first or the second Saturday in August. Fish producers and other members of the society invite guests to a sea food buffet between 11:00 and 17:00 at the harbour in Dalvík. The reason for this generous offer is to get as many people as possible together to taste fish and enjoy a good day in Dalvík. The Great Fish Day has been a very successful event and during the first eight years, a total of 200.000 guests have taken part in this fabulous village feast. Guests have also enjoyed a great weather in all those years. While enjoying the free fish guests can enjoy various entertainments at the harbour. Every year there is a versatile menu with new dishes on offer.
Arctic Open
This international golf tournament takes place 26th-28th of June 2014 around Summer Solstice. The northernmost golf course in the world hosts the Artic Open yearly.
It is an international event which attracts golfers from various parts of the world. Highest number of international players so far is 120 participants.
A game of midnight golf seems an unlikely prospect to many enthusiasts and few golfers have experienced this delight. But now you have a novel opportunity to participate in an event which features round the clock golf in mid-summer at high latitudes.
Republic of Korea (Gangwon Province)
Hwacheon Sancheoneo Ice Festival
Jan 3 to Jan 25, 2015; www.narafestival.com/01_icenara; Hwacheon Stream area
The Hwacheon Sancheoneo (Mount Trout) Ice Festival will be taking place in Hwacheon in Gangwon-do. This virtually untouched region is known as the first area in Korea that freezes over in winter, and the river is covered with a thick layer of ice.
Visitors can try out ice fishing, and those who are feeling brave can try to catch mountain trout with their bare hands in this festival.
The Chuncheon International Mime Festival
24.05.2015 - 31.05.2015
The Chuncheon International Mime Festival presents a wide array of performances by hundreds of performing arts teams from Korea and abroad. Chuncheon is easily accessible by public transportation, and also offers easy access to other popular tourist attractions like Namiseom Island and Soyangang Dam.
Hyoseok Cultural Festival
09.2015
Hyoseok Cultural Festival is held to commemorate modern Korean writer Lee Hyo-seok and his popular novel 'When Buckwheat Flowers Bloom,' which demonstrates the connection between human life and beauty of nature through the dazzling scenery of Bongpyeong. In fact, Bongpyeong is the author's hometown, and appears frequently in his novels.
The Festival offers various participatory programs such as poem exhibition, literature night, Hyo-seok essay contest, nature experiences (e.g. fingernail coloring using balsam), buckwheat food cooking, and many more. Furthermore, visitors may tour Lee Hyo-seok's birthplace and memorial hall.
Goseong Myeongtae Festival
29.10.2015 - 01.11.2015
To ensure a good haul and community prosperity, this festival is held at Geojinhang Port, known as the primary place of Pollack fish in Korea. The festival includes numerous hands-on events such as a sea festival, a cultural festival, and a local culture experience.
The festival has helped the city to promote their local seafood, farm products and other specialties, thus contributing to the growth of the local economy.
JAPAN (Hokkaido)
Rising Sun Rock Festival
The Rising Sun is a Japanese rock music festival in Ezo (Ezo is Hokkaido in Ainu language)and is held every summer at a special outdoor site; Tarukawa Wharf of Ishikari bay new port, only about 40 minutes by car or bus from Sapporo JR station.
The festival is usually around August 12th or 13th and always on a Friday and finishes on the Sunday morning, just after sun rise, hence, the name of the festival.
The Hokkaido Shrine Festival
In the evening there is a festival with many Japan food stalls, horror shows and some carnival games, such as "hit the coconuts". The festival is held in the beautiful Nakajima Park, a short subway ride from Sapporo Station. This is probably the busiest festival I have ever been to in my life, busier than any music festival because the pathways in Nakajima Park are very narrow so it gets very congested very quickly. I was at a standstill every five minutes when walking through.
The Hokkaido University Festival is held every year for about four days in early June. The main campus road area is closed to cars and transforms into a carnival. The entire main Hokkaido University street (about 400m long) is lined with food stalls. On a regular day this beautiful road is lined with huge gingko trees and is a popular tourist attraction, especially in the autumn when the leaves change to reds and yellows.
Hokkudai Festival
During the festival one half of the street is filled with stalls run by the students of the University selling cheap, festival, Japan food, such as yakisoba (fried noodles), yakitori (meat on a stick), Zangi (fried chicken) and other easy to make festival food.
All the food is sold at very reasonable prices but the quality is not great, as it is made by students. All the way down this street, you will hear students shouting and heckling trying to entice potential customers to their booths.
Japanese Dance at the Yosakoi Festival
Yosakoi is a Traditional Japanese dance that started in the city of Kochi in 1954. The dance is usually performed in large groups ranging from 20-50 people choreographed to music with the dancers wearing colourful outfits.
The participants are a mix of people from yosakoi dance schools and local dance teams with men and women of all ages. One year I saw a dance group of elementary school children and they were sooooo cute. I also saw a group of seniors that were amazing! They had colourful make up and I didn't realise their age until i was up close. Their dance routine was a bit less energetic than the other dance groups, but the synchronisation was spot on. Yosakoi means "come at night".
The Otaru Snow Light Path Festival
Otaru near Sapporo Japan has its own snow festival and if you want to get away from the huge crowds and busy atmosphere of the Sapporo Snow Festival this is worth a visit.
There are various kinds of ice candles made by citizens of the city and can be seen along the canal and shopping streets, all within walking distance from the JR train station. It is one the most beautiful Japan festivals in winter and very romantic
The Sapporo Snow Festival
The Sapporo Snow Festival showcases the biggest and most beautiful snow sculptures in the world and takes place every year at the beginning of February in Odori Park. The people of Sapporo go to see them during the first couple of days. The first day is the best when the sculptures have been freshly made and glisten in the sun. After that they begin to melt and get dirty. About 2 million people visit Sapporo every year to see the hundreds of ice sculptures at the Odori Park, Sususkino and the Satoland sites, so it gets really hectic. Every year there is a different theme for the sculptures based on special events, famous people or topics that were popular the previous year.
RUSSIA - Chukotka (Chukotskiy AO)
Feast of the Polar Bear
Winter-spring
The history of the peoples of Chukotka is rich in various kinds of traditions and rites, born of the observation of nature, the life of animals and dedication deer hunting season or the beginning or end. Feast of the polar bear was accompanied by interesting ritual actions: Thanksgiving ritual, the performance of the best dancers and other activities.
Feast of Keretkun
Time of usually associated with the fishing season.
Keretkun - is the name of the spirit, which express wishes and requests. This spirit - the main protagonist in the ceremony. Perform the ceremony, put a few zhirnikov above them hung boiler, which is cooked food. About zhirnikov kindle a fire. He serves as a ritual of presenting food. One of the most important design elements yaranga the holiday is Keretkuna network, which is described in detail in VG Tan Bogoras: "Network woven from tendons. It is hung under the smoke hole of the tent. Often used a pole to maintain it. The network is spread horizontally, and each end of her straps tied to the walls of the tent. Network hung with pictures of birds and small toy paddles painted blood seal . The number of oars comes to a dozen. Busin much smaller. The birds are made of wood and decorated with very rough strips. On the pole sticking out of the smoke hole, attached a wooden image of a seagull ... ". During the holiday spend feeding network, spirits and express the wishes and requests
Feast of whale
One of the most exciting holidays of indigenous inhabitants of the coast of Chukotka (Chukchi, Eskimos). Held in the coastal towns (Lawrence, Wellen) in late August, September.
Usually on the eve of the whole village met the canoe with messengers who had brought the news of the mined whale and emergency meeting with the brave hunters. Runners are invited to the ritual fire, treat. The hunters talk about how the past hunting, canoe whose first harpooned whale. Then, on the shore waiting for the canoes with a harpooned whale. Hunters in canoes reaching the shore in greeting raise oars. girl meet arrivers with a ritual wooden dishes, accompanied by a woman who is the keeper of national traditions. At the end of the towing whale woman misled him the girl to perform the ritual drinking of sea animals. Hunters tray spear-shaped blades, and they cut out pieces of whale skin (itgilgyn), cut into thin plates, laid out on a wooden oval dishes and portrayed the boys - future hunters. On the second day, the team baydarnoy come to a thanksgiving ceremony. Place for it is covered with walrus skins. Out of blocks of snow piled wall behind the platform. Strengthen two-meter vertical stakes, they set horizontally on two oars in the back of the - steering wheel canoes - a symbol of canoes on land. The rite begins with the cry of "O-ok-ok". "The circle of women go out with her braids in the headbands of white ermine skins, gloved in white mandarka (tanned skins without a seal coat) with ornament and furry. Women dancing sedentary dance depicting hunting whale. Then sedentary dance performed by hunters. The climax of the song and dance was considered competition. The best performers received prizes.
Celebration in some villages narrators includes competitions for the best knowledge of tales about whales, stories of experienced hunters and interesting cases on the hunt, instsenirovanie tales, sporting events, starting with the traditional racing canoes.
"Smelt Festival"
Spring
"Smelt Festival" has been held since the early 1990s as a regular contest amateur fishermen, and now has become a favorite holiday northerners and the biggest spring show in Chukotka. To "Korfest" attracts national, folk ensembles, masters and carvers bring their products and organize the exhibition and sale. There is a possibility of national dishes prepared by Chukchi recipes, cooked on a fire in yaranga - Traditional accommodation Chukchi
RUSSIA - Sakha Republic (Yakutia)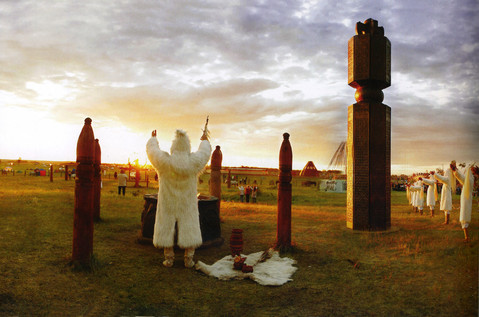 Ysyakh
Ysyakh is Sakha celebration of the summerThis spring-summer festivity honors the deities Aiyy and the rebirth of nature, accompanied by ritual prayers, plentiful refreshments (traditional mare milk drink "Kumys"), dances, traditional games and horse racing. The national holiday, which marks the completion of "Dyl" (last year) and the beginning of a new "Syl" (New Year), the completion of the annual economic cycle. In 2012, the city-based Ysyakh held a World record for the number of traditional round dance, which involved 15293 people in national costumes.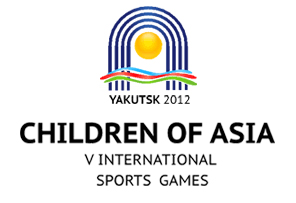 Children of Asia
Originally started in 1996, Children of Asia became the first pan-Asian Olympic-style sports games for children. Since then, five games were held in Yakutsk, with the 6th coming along in 2016 – same year as the next Summer Olympics. Number of sports has grown from a few to 25 – those include different kinds of athletics, traditional ethnic sports, and other typical summer Olympic sports. After the 5th anniversary games, the event granted the International Olympic Committee patronage, which raised awareness and status of the games.
Yakutsk International Film Festival
For the last few years, Youth of Sakha Republic started to get very interested with movie making. Rise of number and quality of domestic-made professional, amateur and art films gets steeper to an extent that Russian Federal media began comparing Sakha moviemaking scene to "Bollywood" of India. Local movies make profits at domestic theatres comparable to those of high-dollar blockbusters from Hollywood and more than Russian-made movies. This atmosphere has become a solid ground for the Yakutsk film festival that was first held in 2013. Participants have viewed Arctic-themed films either coming from the Northern regions of Earth or telling about this particular region. As this festival was a success, 2014 and years after that are promising to boost growth of this event gradually. 2014 Festival is to be held in Yakutsk in late August 2014.
RUSSIA - Yamal (YNAO)
Reindeer Herder's Day
February 1-April 30
Annual national holiday celebrated in all municipalities of Yamal. In these days before numerous guests creative teams of Autonomous Okrug perfomance. As part of the celebrations competitions in national sports, sled dog races, demonstration of clothing, a competition for the best female harness, game programs for children and much more are planned.
Day of the reindeer herder on the Yamal Peninsula has become the hallmark of the region in the field of tourism. Colorful celebration, showing the strength and agility of Yamal herders, skill tent-housewives, their hospitality and the breadth of the soul - an integral part of the event and eco-tourism on a Yamal.